日本のテクノロジーを使った、従来とは全くアプローチが違う革新的な鮨です。新鮮さと濃厚な旨味の両方を併せ持つ熟成鮨は、日本国内においてもたくさんの驚きと感動を与えています。
鮨はそもそも熟鮓(なれずし)という熟成鮨からスタートしました。歴史上、そのルーツは古く、日本では1000年以上の歴史があります。握り鮨のスタイルが生まれたのは今からおよそ400年前。温度管理が難しかった時代に、いかに魚介類を保存するか、という様々な知恵が熟成や発酵の技術を生み、日本独自の鮨文化を生み出しました。
近年、物流・冷蔵保存技術の発達により鮨は鮮度重視の時代を迎え、今のスタイルへと進歩しましたが、この数年、もう一度日本の伝統技を再構築する研究が進み、最新の冷蔵保存技術と魚介の旨味を最大限に引き上げる熟成技術を組み込んだ、日本独自の最先端技術の結晶『熟成鮨』が生まれたのです。
(熟成鮨のご提供は、
三階会員フロア
限定です)
What is matured sushi(aged sushi)?
It is an innovative sushi, produced by using Japanese technology with totally different approach from the conventional sushi. It has a very deep umami but at the same time it is fresh. It has been impressing and surprising people so much even in Japan.

The history of sushi began as a matured sushi(aged sushi) called "nare-zushi". Its root dates back to 1000 years ago. The current nigiri style was created about 400 years ago. When it was difficult to maintain the perfect temperature to keep fish fresh, people studied very hard to find a way to keep the fish, and that became a source for creating the techniques for maturation and fermentation. Thus, the culture of Japanese sushi was born.

Now with the development of logistics and refrigeration, the point of importance has turned to freshness. On the other hand, research on reconstructing the traditional technique has been also active. By incorporating the current refrigeration technique and the maturation technique to bring out the umami to the utmost extreme, matured sushi(aged sushi) was born. Maturing is not just letting the fish sit in the fridge. This leads to decay. By controlling the refrigeration technique and the skill to control the moisture content in the fish, it leads to the wonderful maturation stage. It is a gem of the most advanced Japanese technology. Fujiro, after a great amount or research and experience, chooses the fish suitable for maturation and does not mature all kinds of fish. Serving some fish suitable for maturation as matured sushi(aged sushi), and serving some that are not suitable for maturation, fresh, and this is what makes it so exciting for the eaters.
熟成14日。180kgの天然本鮪。
濃厚な旨味と、口に入れると一瞬で溶けていく衝撃。
180kg of natural Bluefin tuna after 14 days of maturation. You can feel its depth of umami, melting in your mouth.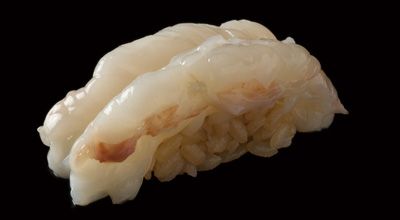 72時間熟成の牡丹海老。
濃厚な甘みとコクが口の中にねっとりと粘り付き、噛むとプリプリとした食感が同居している。
Botan shrimp after 72 hours of maturation. Plump as always to the palate, and its special texture with deepened sweetness and richness feels somewhat sticky to the mouth.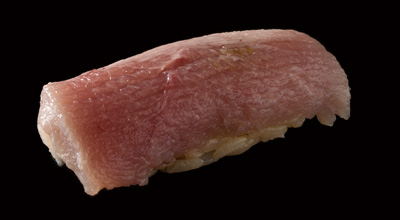 7日熟成のカツオ。
呼吸させるように中の水分を循環させて熟成させる。
Bonito after 7 days of maturation. We mature them by circulating the moisture inside the flesh as if we make them breathe.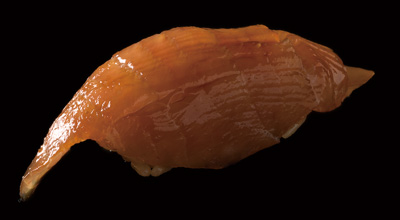 6日熟成の関八。
特に旨いのは天然のアカバナ(10kg以上)と呼ばれるもの。特製の醤油に50秒ほど漬けて酢橘を落として食す。
Amberjack after 6 days of maturation. The best is called great amberjack that weighs over 10kg. Before eating you dip it into a special soy sauce for about 50 seconds and drop some Japanese lime on.